Drishti: the Sight
ISSN 2319-8281
Approved by UGC and enlisted in the UGC-CARE List in Arts and Humanities section.
About the Journal
National refereed Bi-annnual Research Journal in the disciplines of Arts and Humanities (English Literature, Assamese Literature, Folklore, Culture)
Chief Editor
Dr. Dipak Jyoti Baruah Professor, Department of English, Mahapurusha Srimanta Sankaradeva Viswavidyalaya (Assam)
Associate Editors
Dr. Manash Pratim Borah (Dept. of English, Central Institute of Himalayan Culture Studies: An Autonomous Body of the Ministry of Culture, GOI)
Dr. Nizara Hazarika (Dept. of English, Sonapur College, Gauhati University)
Dr. Breez Mohan Hazarika (Dept. of English, D.C.B. Girls' College, Dibrugarh University)
Publisher
Corrigendum
The Drishti:the Sight would like to clarify that there was an error in respect to the E-mail i.d of Radali Sharma, which inadvertently appeared in her article: "Peripheral Figures in Moushumi Kandali's "Fireflies Outside of the Frame": A Journey through Racial Discrimination and Solitary Dilemma", published in the journal's current May,2023 issue(Vol XII, Issue-I).
Her mail i.d should rather be read as:  radalisharma95@gmail.com and not as the one, which has been printed.
The error is deeply regretted.
:Chief Editor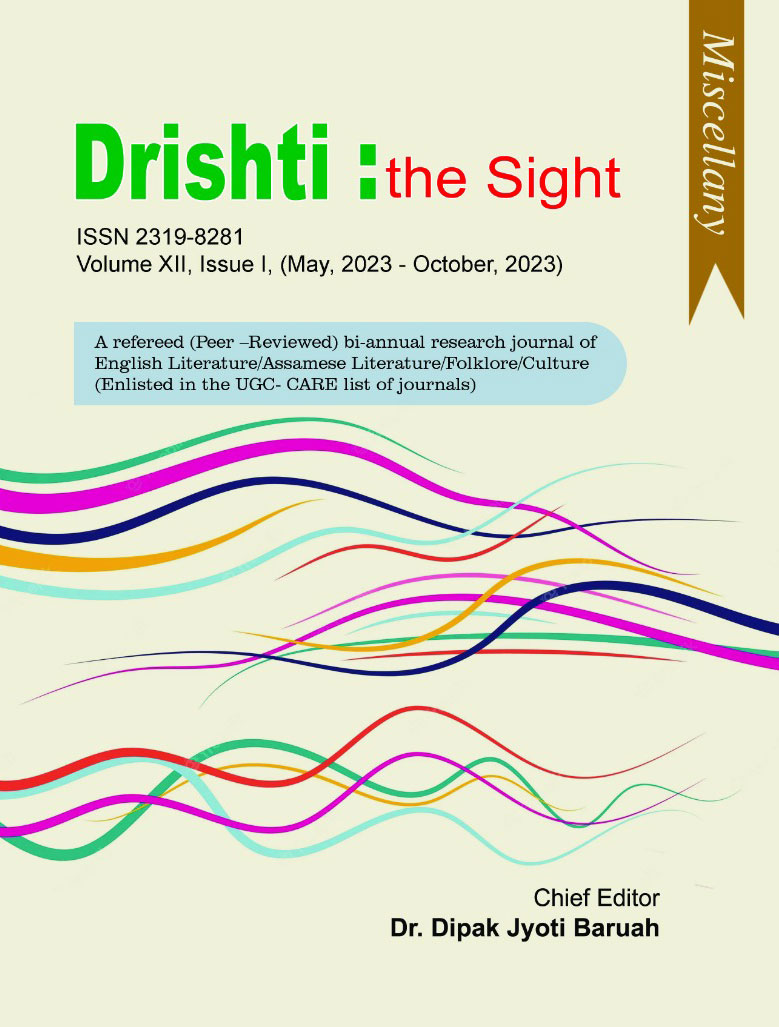 Volume XII, Issue I May, 2023 - Oct, 2023
ISSN 2319-8281
Members of Advisory Body
Dr. Gayatree Bhattacharyya, Former Professor, Dept. of English, University of Gauhati
Dr. Dayananda Pathak, Former Principal, Pragjyotish College, Guwahati
Dr. Dwijen Sharma, Professor, Dept. of English, North Eastern Hill University (Tura Campus)
Dr. Bibhash Choudhury, Professor, Dept. of English, University of Gauhati
Dr. Kalikinkar Pattanayak, Former Associate Professor in English, Khallikote University, Odisha
Dr. Anway Mukhopadhyaya, Assistant Professor, Dept. of Humanities and Social Sciences, IIT-Kharagpur
Read more